You can try to upgrade yourself to a new technology called IPTV. Technologies like IPTV bring the users a lot of advantages. With an IPTV subscription, users can enjoy watching their favorite channels over the internet with a minimum subscription cost. Some IPTV services provide a set-top box as a medium to provide their contents. Now, let us see more about Catv IPTV.
With Catv IPTV, users can connect the set-top box to their TV to stream their favorite channels. You can watch 500+ HD channels and 10000+ on-demand video content with the set-top box. There are also a variety of customized subscription packages to choose from. Customer service is also provided.
FEATURES OF CATV IPTV
1. Stable resources of TV channels, regional networks, and sports networks.
2. 4K HD high-quality picture.
3. Over 500+ channels,10000+ on-demand content.
4. A three-day free trial is provided before ordering.
5. Offers four different package that starts from one month to one year.
HOW TO PURCHASE CATV IPTV SET-TOP BOX
1. Visit the official site of Catv IPTV.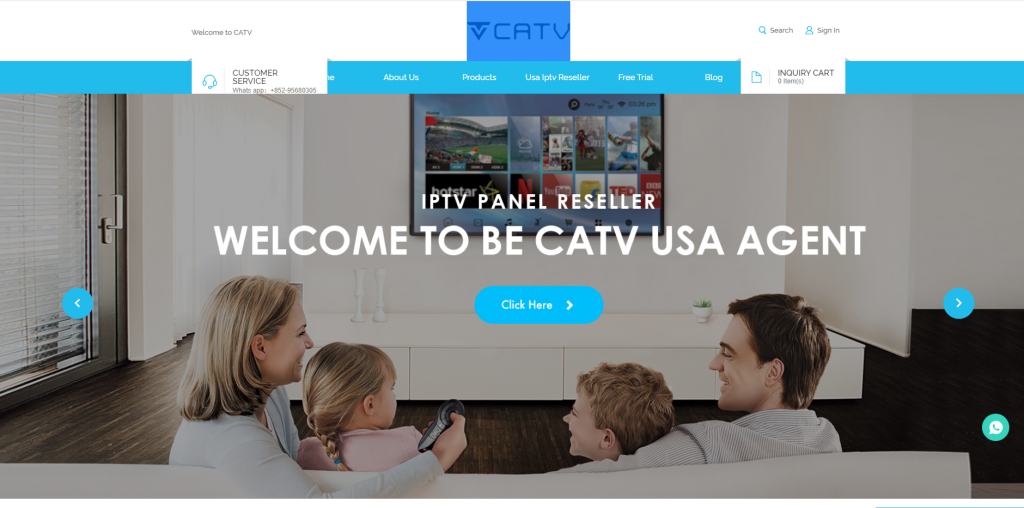 2. Click on the Products tab from the home page.
3. Select the IPTV Set-top Box from the products page.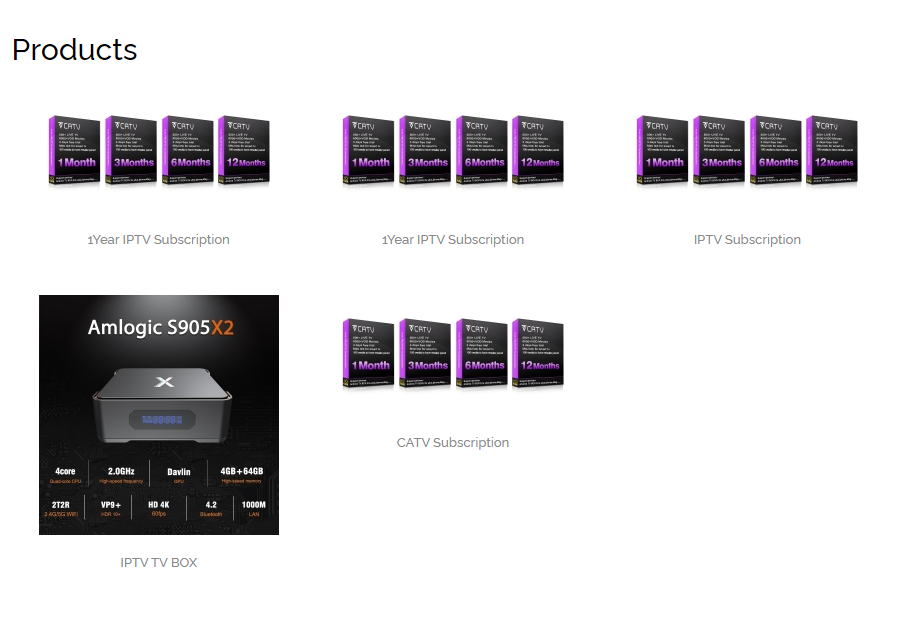 4. Click on the Inquiry button to add it to the cart.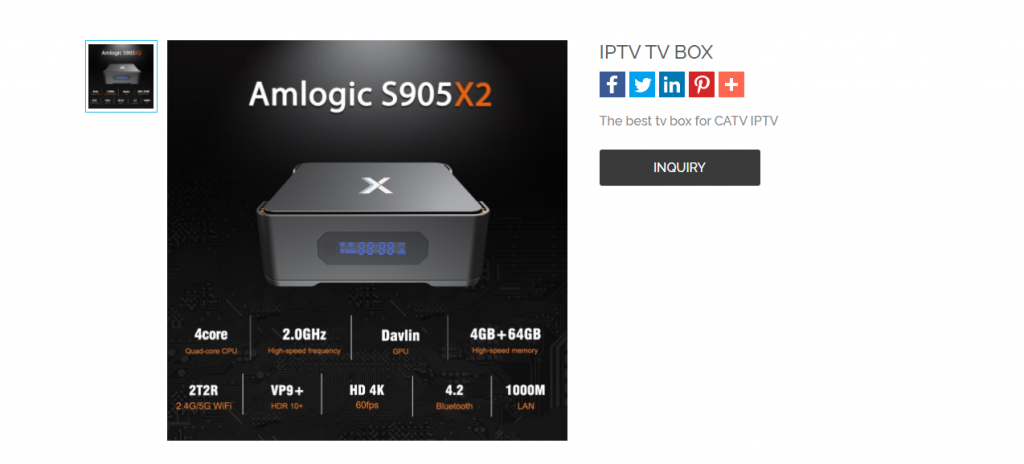 5. Go to the Inquiry Cart and fill out your details and click on Submit.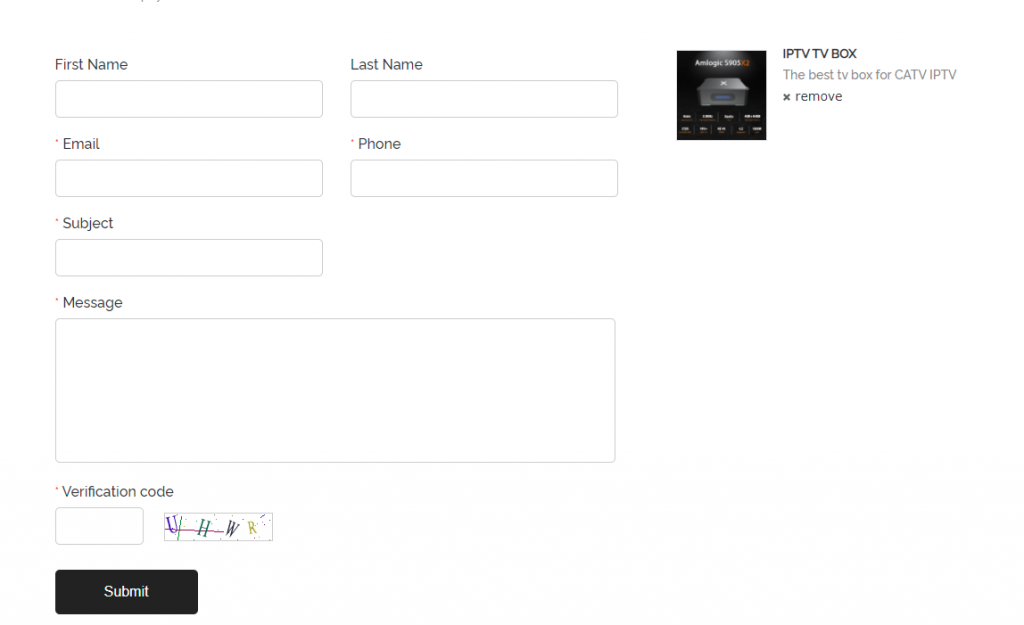 6. Once you submit a request, a representative will contact you soon to confirm your order.
7. You can pay for the order by COD once you receive the product.
SPECIFICATION OF CATV IPTV SET-TOP BOX
| | |
| --- | --- |
| OS | Android OS 8.1 |
| CPU | Amlogic S905X2 Quad-core Cortex-A53 12nm |
| RAM | 4GB |
| ROM | 64GB |
| WiFi | Dual-Band AC WiFi |
| USB interface | USB 2.0×1   USB 3.0×3 |
| GPU | ARM Dvalin MP2 GPU support OpenGL ES3.2/OpenCL2.0 |
| DC connector | ∮5.5mm DC 5V@2.5A |
| Card socket | SDHC/SDXC Support 4GB/8GB/16GB/32GB/64GB |
| Network connection | IEEE 802.3 10/100M/1000M |
| Warranty | 1 Year |
HOW TO INSTALL CATV IPTV SET-TOP BOX
1. Unbox the Catv IPTV package. You will find:
Set-top box * 1
HDMI Cable * 1
Remote * 1
Adapter * 1
2. Connect your set-top box to your TV using the HDMI cable.
3. Then, connect the adapter to a power source and another end to your set-top box.
4. Turn on the power.
5. The TV and set-top box will get powered.
6. Choose the correct HDMI port to get the IPTV set-top box input.
7. Complete the setup process by following the on-screen instructions.
8. Then, log in with your IPTV account and stream the contents.
CUSTOMER SUPPORT
There are two ways to contact the customer support team. They are:
1. Whatsapp: +852-95680305.
2. Visit the official website and scroll down to the bottom to fill out a message to get support.
OPINION
Catv IPTV offers its service with customized packages to choose from. But, the disadvantage is they do not provide lifetime access. You have to purchase a set-top and package to stream the contents separately. If you want lifetime access to IPTV contents, you can try using LongTV IPTV.