IPTV 605 is from TVIP, which offers lots of products and services. TVIP mainly creates IPTV or OTT solutions for Telecom operators in US and Canada. It offers a wide range of TVIP S-Box models, and IPTV 605 is one among them. With a compact design and high performance, this setup box is one of the must-try set-up boxes. It is one of the cost-effective setup boxes with a high-speed server. Check out this article to find more details about IPTV 605 setup box.
Why Use a VPN for IPTV 605?
While using a setup box, it is not necessary to use a VPN. But in the case of TVIP 605, the developer of the setup box will upload the content. In such cases, the content might have been pirated and you cannot identify how far this IPTV is legal. However, it is to note that not all IPTV services are illegal. When you happen to use it, you might face legal charges or copyright infringements. So make sure to use a VPN to stay anonymous and use the internet. It will hide your IP and other data to prevent you from being tracked by ISP or trackers. Use a VPN like IPVanish or Private VPN to ensure better security.
How to Buy IPTV 605 4K?
To purchase IPTV 605, you can visit their official site and click on the Where to Buy menu option. There you can find the list of authorized dealers and distributors. Click on the respective country from where you want to purchase. And contact the distributor in the given mail, phone, or address. You can get this IPTV on Amazon.com.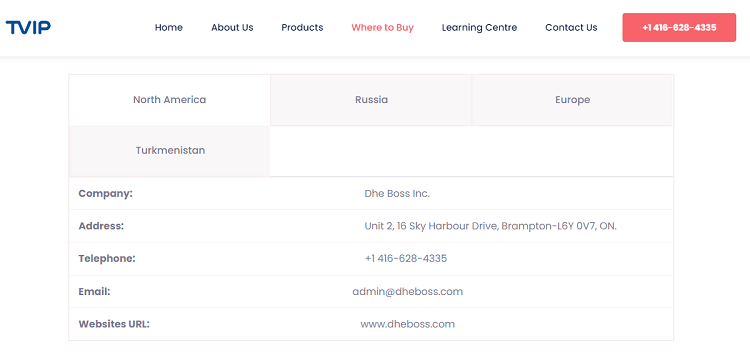 #1 Visit the Amazon.com official site or open the app.
#2 Now, search for the TVIP IPTV 605 and select the appropriate product.
#3 Make sure to log in to your account.
#4 Go ahead to click on the Add to Cart or Buy Now button.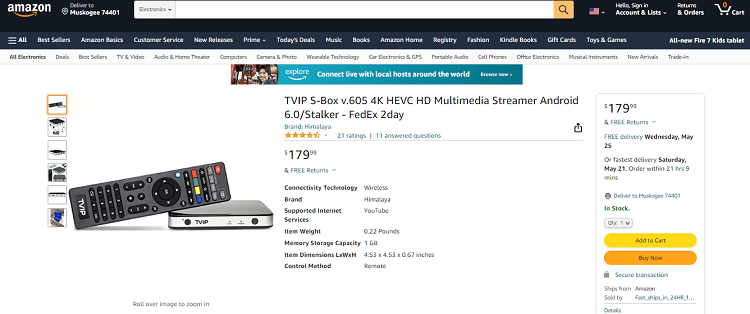 #5 On the next screen, select the Shipping Address.
#6 Then proceed with the instructions and complete the purchase.
Specifications of IPTV 605
| Parameters | IPTV 605 |
| --- | --- |
| Operating System | Linux or Android 8.0 (Oreo) |
| Supported Middleware | TVIP TMS, IPTVPORTAL, OPEN JSON API, Stalker, Microimpuls, Smotreshka, HTML5/JS Portals |
| Chipset | Amlogic S905X quad-core 1.5 GHz |
| Video Resolution | 3840*216 HDR |
| Remote Provisioning | TR-069 or TVIP XML |
| Containers | MPEG-TS, MPEG-PS, MP4, MKV, AVI, MOV, FLV, OGG |
| Protocols | UDP, RTP, HTTP, HLS, MPEG-DASH, RTSP, SMB, NFS, DLNA |
| 3-D Graphics | Open GL ES 2.0 (Mali-450 penta core) |
| Memory | RAM 1 GB and Flash 8 GB |
| Interfaces | HDMI, AV, Ethernet, 2xUSB, MicroSD Card, ext.IR, WiFi 802.11 (b/g/n/ac) 2,4/5 GHz, Bluetooth |
| CAS/DRM | TVIP, IPTVPORTAL, BISS, Widevine L3, optional: PlayReady, Verimatrix 3. x, Widevine L1 |
| Video Codecs | H.265 (10 bit), VP9, H.264, MPEG4 ASP, Xvid, MPEG2, MJPEG 2160p 60 fps |
| Audio Codecs | MPEG/MP3/MPA, AAC, WMA, OGG, WAV, FLAC, APE |
| Subtitles | DVBSUB, VOBSUB, Teletext, SSA/ASS, SubRip, MOV_Text, WebVTT |
| Images | JPEG, PNG |
Features of IPTV 605
IPTV 605 is a setup box for watching videos in 4K Ultra HD quality.
As far as WiFi is concerned, you can connect it to 802.11 (b/g/n/ac) 2.4/5 GHz.
It supports STB and Smart TV, including TVIP, Mag, Eltex, Android TV, Samsung Smart TV, and LG Smart TV with one interface.
It is a Time-shifted TV and comes with an EPG TV Schedule.
You can also find Video On Demand content along with TV Archive.
How to Setup IPTV 605?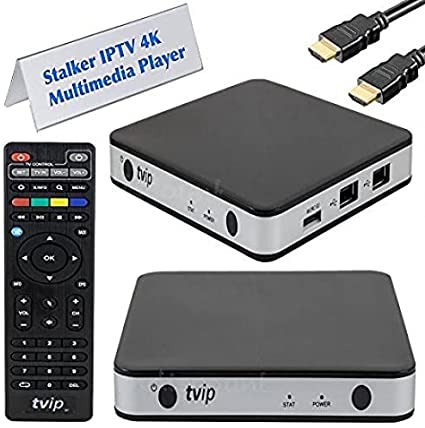 Inside the Box

A Manual
IPTV Box
Remote
Power Adapter
HDMI Cable
Two Remote Battery
IPTV 605 4K manual
#1 First, put on the two batteries in the remote.
#2 Next, connect the IPTV 605 to the power outlet.
#3 Connect one end of the HDMI Cable to the Setup box and the other end to your TV.

#4 Turn on your TV and the Setup box.
#5 Then, select the language and then go to Network Setup.
#6 Select Ethernet if you use one, or click on the WiFi option and complete the setup.
#7 Next, you need to check for Software Update and then select the Timezone you are in.
#8 Now, just the device will walk you through the features and settings, and then the home screen will appear.
#9 And that's it. Now you can start using the IPTV 605 setup box.
Customer Support
To contact the customer care of TVIP 605, you can visit their official site and click on the Contact Us button. On this page, you can fill the form with the mandatory details and Send the Message to them. Or you can contact them on their phone at +1 (416) 628-4335. You can also mail them at admin@tvipbox.tv or na@tvip.tv. Or if you are anywhere near Brampton, Canada, you can directly visit their office at 16 Sky Harbour Dr. Brampton, ON L6Y 0C1 Canada.
Our Opinion
IPTV 605 just costs $179.99 and acts as a perfect box to stream your IPTV service provider. You can add your desired provider and enjoy a plethora of content, including live TV channels and various other VOD content with this TVIP. You can also try some other IPTV setup boxes like Sky IPTV or Infomir IPTV.