There are three types of IPTV services. IPTV Media players, IPTV providers, and IPTV set-top boxes. Out of three, IPTV set-top boxes are rare. Only a few IPTV providers are offering set-top boxes. With IPTV set-top box, you can connect it to your TV instead of a cable to stream your favorite channels. Let us see about Goldenbox IPTV with the set-top box.
Goldenbox IPTV provides a IPTV receiver to its users. They can connect the device to their TV and can stream thousands of IPTV channels and live shows. You can also get their service with a one-time purchase and there are no additional charges.
Features of Goldenbox IPTV
With a one-time payment of $199.99, you can purchase the setup box with a lifetime subscription.
The IPTV receiver provides 1500+ international live TV channels.
It offers channels from Malaysia, Singapore, India, United States, Canada, France, Spain, and so on.
4k video quality is supported.
How to Purchase Goldenbox IPTV Set-Top Box
1. Go to the official website of GoldenBox IPTV.
2. Click on Buy Set-Top Box from the home page.
3. Next, tap on the Add To Cart option.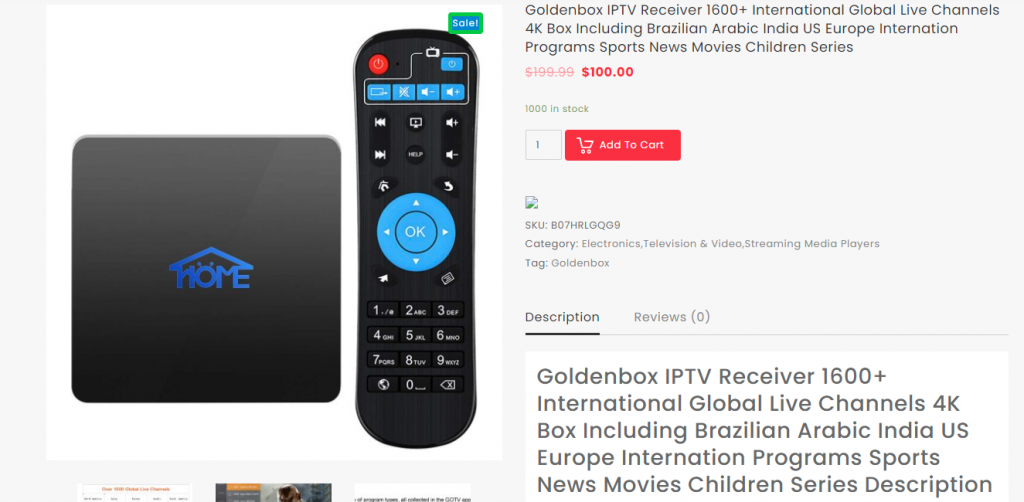 4. Select the View Cart to start the checkout process.
5. Then, click on Proceed to Checkout.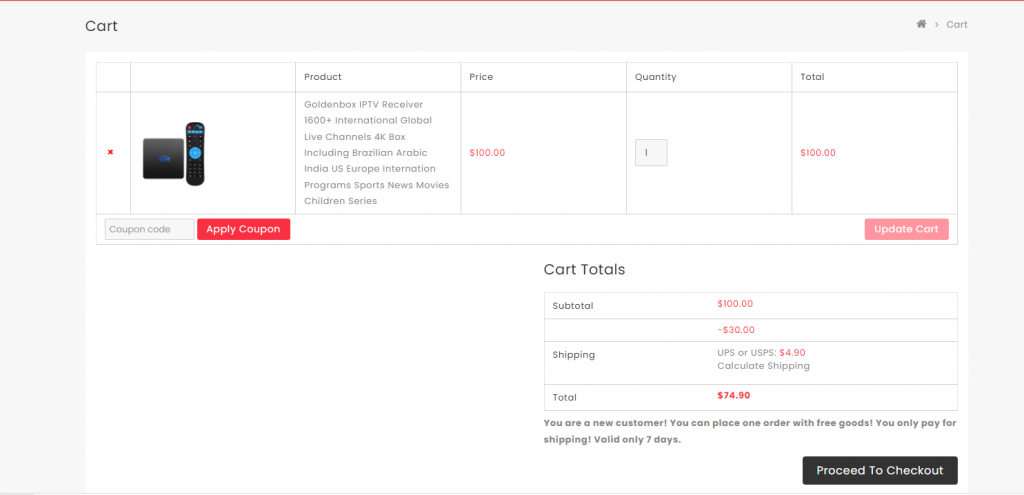 6. Enter your billing details and tap on Pay With PayPal to make the transaction.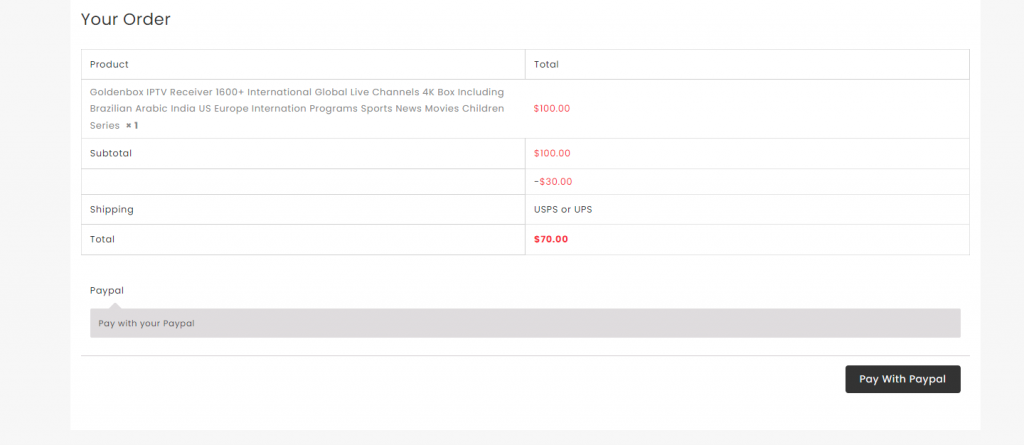 7. Once the order is placed, you will receive your set-top box at the billing address.
Specification of Goldenbox TV IPTV
| | |
| --- | --- |
| OS | Android 9.0 |
| Chipset Processor | 8 Core (4+4) 4 CoreARM Cortex-A53 + Mail 400MP2 GPU SDRAM: DDR3 2G Nand |
| Memory | 2 GB DDR3 Memory |
| Storage | 16 GB eMMC Internal Storage |
| Expandable Memory | Support MicroSD(TF),Up to 32GB |
| USB Port | 2 X USB 2.0 |
| AV Output | 1×3.5mm Jack |
| W-Fi Support | 802.11 b/g/n Wireless |
| Network | 10/100M LAN |
| Resolution | Full 2160P@30fps |
| Warranty | 1 Year |
How to Set Up Goldenbox TV IPTV BOX
1. When you unbox Goldenbox IPTV Box, you will find the following:
IPTV Box
Remote Controller
Power Adapter
HDMI Cable
User Manual
2. Turn on your TV and connect the set-top box to it via USB.
3. Follow the on-screen prompts to complete the setup process.
4. Then, choose your favorite channel and stream it on your smart TV.
Customer Support
Navigate to the FAQ section on the Goldenbox website. You will find all frequently asked questions related to your set-top box and the necessary procedure to resolve it.
Opinion
With the Goldenbox set-top box, you can get lifetime access to the IPTV channels. Though it is similar to Black Box TV IPTV, Goldenbox IPTV is more affordable. You won't need to pay any other charges once you purchase the IPTV receiver. But the disadvantage is that you can only use this set-top box to get access. It is not possible to carry this device everywhere you go.