Brampton IPTV is one of the Set-Top Box IPTV which you can connect to your TVand enjoy various live TV channels with it. It offers nearly 500+ live TV channels. It is one of the largest IPTV service providers in the USA and Canada. This IPTV mainly targets the Indians living in those regions. It has channels from more than 10 major Indian languages and various VOD content. Do follow for more about Brampton IPTV.
Highlights of Brampton IPTV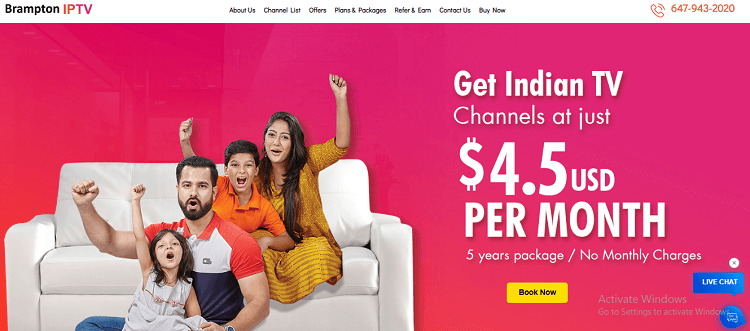 It offers 500+ live TV channels and comes with one of the largest movie libraries in the world.
All the channels are available in SD and HD quality.
It includes channels from the most popular Indian regional languages.
The Video On Demand includes Action, Comedy, Thriller, Romance, Drama, etc.
It is one of the largest IPTV Service Providers.
You can even record live TV channels for 7 days.
All the content comes with 5x picture clarity to stream.
The long-term subscriptions keep you away from monthly payments.
There will not be any lags or buffering while streaming with this set-top box.
Brampton IPTV Price & Plans
The following are the different subscription packs offered by the Brampton IPTV. All these include the prices of the set-up box too.
1-year subscription costs 230 USD.
2 years subscription costs 250 USD.
5 years subscription costs 270 USD.
And the 6 years subscription costs 350 USD.
Need for a VPN while Streaming with Brampton IPTV?
VPN isn't a necessary one while streaming with an IPTV Set Top Box as it will provide only local content. Also, it is very safe and secure to use. But if you want, you can use a VPN to enhance your streaming experience by avoiding throttling and increasing the speed. You can find some good VPNs like ExpressVPN or NordVPN to stream.
Brampton IPTV Content
The following is the content offered by the Brampton IPTV under its subscription.
Punjabi Channels
Hindi Channels
Gujarati Channels
Pakistani Channels
Marathi Channels
Nepali Channels
Telugu Channels
English Channels
Bangla Channels
Tamil Channels
Kanada Channels
Srilankan Channels
Urdu Channels
Malayalam Channels
How to Buy and Subscribe to Brampton IPTV?
#1 Visit the official site of the Brampton IPTV (https://www.bramptoniptv.net/).
#2 Then, click on the Plans and Packages option from the top menu bar.
#3 You have to choose the plan you want.
#4 Click on the Buy Now button.

#5 On the next screen, select the Plan in the Select Plan dropdown.
#6 Then Number of Quantity in the respective dropdown.
#7 Now click on the I Agree to Buy Now button.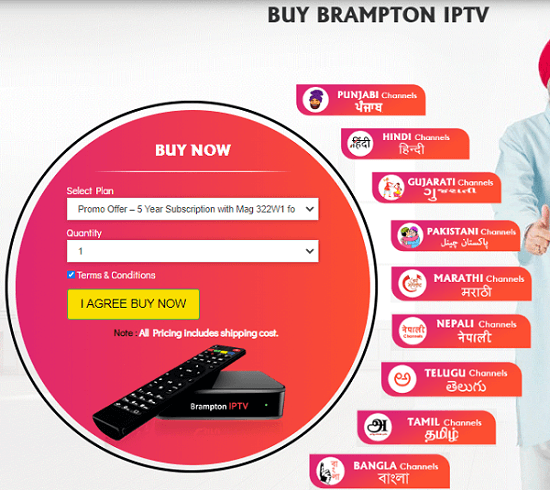 #8 Now, fill up the Brampton IPTV Payment form with all the mandatory details.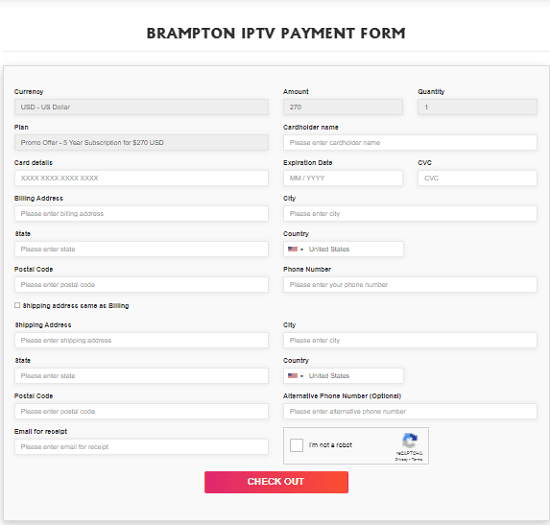 #9 Then, click on the Check Out button.
#10 That's it. Now you need to proceed with payments.
#11 Once you are done with the payments, all the other details will be conveyed to you via mail or phone.
How to Set Up Brampton IPTV?
All you need is a TV with an HDMI port. And a WiFi connection with 10 MBPS internet speed. With the required system requirements, you can contact the customer support of this IPTV to know more details about how to install and set up Brampton IPTV. All the necessary set-up guidelines will be provided in the box. You can easily set it up with the instructions provided by the customer support executive.
Customer Support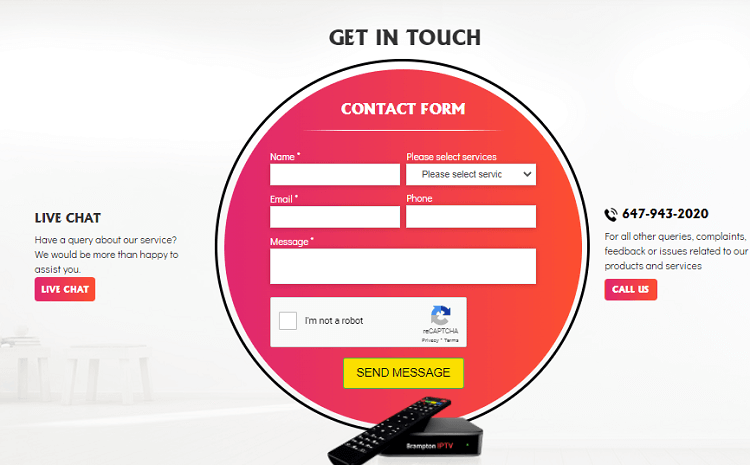 It does offer 24/7 customer support in English and various Indian regional languages. It even offers live chat. You can contact them through call via 647-943-2020. You can click on the Contact Us on their site and fill up the contact form then send the message if Brampton IPTV is not working. The company will call you back as soon as possible.
Opinion
Brampton is one of the must-try IPTV set-top boxes with various live TV channels. All you need is a 10 MBPS internet speed to enjoy the live TV channels and other VOD content. It is one of the largest IPTV Set Top Box. There are many other IPTV Set-up-boxes to stream, like Tashan IPTV or Redline IPTV for you to try out.